Going to the 68th AACC Annual Scientific Meeting & Clinical Lab Expo in San Diego (July 3oth – August 3rd)?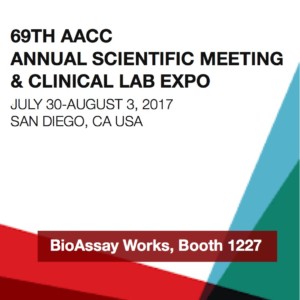 Make sure you stop by and visit BioAssay Works at Booth 1227 to learn how we enable companies to produce rapid assays with lab-based assay sensitivity. From our proprietary gold nanoparticles to our patented C-Flat® assay platform and assay development services, find out how we can jump-start your rapid assay project.
To ensure we set aside time to discuss your project, please contact us at sales@bioassayworks.com to setup a convenient meeting time at AACC. See you in San Diego!